How Much Does Wood Siding Cost?
The average cost to install wood siding is estimated to be between $2.13–$5.14 per square foot. The biggest contributing factors will be square footage to side and labor costs.
PRICING FACTORS: Location, Square footage to be sided, contractor labor rates, DIY vs Professional Installation
Estimated Cost to Install Wood Siding by House Size:
1500 Sq. Ft House: $4,675-$9,110
1700 Sq. Ft House: $5,299-$10,100
2000 Sq. Ft House: $6,989-$10,322
2500 Sq. Ft House: $7,775-$13,300
3000 Sq. Ft House: $9,330-$15,100
Pricing above are estimates. For a quote on your project we highly recommend consultation from a certified siding professional near you.
Wood Siding Buying Guide
If you're in the market for a new home, there may be nothing more appealing than wood siding, particularly when you compare it to other types of siding. This is also true for current homeowners looking to boost their homes' overall appeal.
Before you get too deep into your siding project, you'll want to answer this question: how much does wood siding cost?
Several factors determine the overall cost of any siding job. By the end of this article, you'll have enough information about the cost to make an educated choice for your next home improvement project.
You'll be ready to talk with a professional who can give you even more details.
Understanding the Cost of Wood Siding
Before you begin pricing home siding, remember a few points. First, the cost of any siding material can fluctuate. Availability is one factor that can change the price.
Second, the type of wood you choose determines how much you'll pay. Pine and fir are typically the most economical. Cedar and redwood are more expensive.
You'll also want to consider maintenance costs. Due to durability, choosing a wood on the lower end of the cost spectrum could mean you'll pay more for maintenance.
Don't forget about your location. Your zip code significantly affects the cost of materials and labor. If you choose a difficult-to-source species of wood, you will pay more.
Options for Wood Siding
There are six types of natural wood commonly used in the U.S. for wood siding. They include the following hardwoods and softwoods:
Pine
Cedar
Spruce
Fir
Redwood
Cypress
Some woods are more expensive than others. In addition to the price of materials, the cost of siding installation also determines the cost of your project. Some hardwood siding types are more challenging to install, which can increase the final price.
You might assume wood is the most expensive siding material. On average, fiber cement board and insulated vinyl cost more.
Two Common Wood Siding Options
Pine and cedar are the two most common wood used for home siding. Let's look at the features and benefits of both.
Pine
The majority of homeowners who install wood siding choose pine.
You'll see white pine used for finished siding projects. Yellow pine is preferable for framing. It contains sap, which gums up saw blades, rejects paint and stain, and has a hard yellow streak (alternating with white).
You can paint or stain white pine. However, pine doesn't have a distinctive grain, making it a better surface for paint.
Although pine is a softwood, it's still quite durable. If you're meticulous about maintenance, your pine siding could last 50 years or longer.
There are a few disadvantages to installing pine siding. It's not resistant to rot. Pine doesn't repel insects or rodents.
Cost: $2 to $5 per square foot
Cedar
Siding installers like cedar siding because it's pretty easy to work with. If you're looking for durable and stable wood, cedar may be your best option.
When used in siding applications, the straight grain lends stability. If stained, cedar provides a stunning finish.
Cedar resists insects and wood rot. The amount of heartwood makes the wood more robust and more insect-resistant.
Cedar siding isn't high maintenance. If you power wash it every year and give it a fresh coat of stain every three years or as needed, you'll likely get anywhere from 20-40 years of use.
Cost: $6 to $12 per square foot
Fir and Spruce Siding
These two types of wood share several similarities. They're both softwoods, and neither is insect or rot-resistant. If you choose fir or pine siding, you'll need to pay close attention to maintenance.
You'll find some subtle differences between the two types of wood.
For example, fir has an even grain. While some woods do better with one or the other finish, you can paint or stain fir and enjoy an attractive finish.
Spruce is more common in homes on the East Coast. Sometimes, you can find longer lengths of spruce, which isn't the case with white or yellow pine. Fir is also occasionally available in longer lengths.
Whether you choose spruce or fir, the quality of the lumber your installer uses determines the price. Higher quality grades will cost more, but you'll typically get a more durable product.
Cost: $6 to $12 per square foot
Redwood Siding
If you're looking for a highly durable siding material, consider redwood. It's one of the most durable siding options and one of the most preferred woods.
Because the wood contains minimal resin, it accepts most finishes readily. Another feature of redwood is minimal shrinkage. Other woods that shrink more change shape, which results in warping and cupping.
Redwood siding needs less maintenance than most other siding materials. Like cedar, if you power wash every year and seal every three years, you'll optimize redwood siding's lifespan.
This wood is naturally resistant to insects. It's not as prone to rot as other types of wood siding.
One disadvantage of redwood is availability. Redwood grows in the Western United States. It's not always readily available in other parts of the country.
Cost: $8 to $20 per square foot
Is Cypress a Good Siding Material?
Like the other woods covered so far, cypress is a softwood. In the past, cypress was the wood of choice for residential siding, which is why you often see it on older homes.
Cypress resists wood rot and repels insects. It's also relatively lightweight, although it's quite dense.
One reason cypress lost popularity for siding is cost. It's more expensive than most of the softwoods. Cedar is also hard to mill, making it harder to find a source.
If you've set your heart on cypress but can't find an affordable source, you may be able to use reclaimed cypress wood. Look for a 100-year-old home or building set for demolition.
Cost: $5 to $10 per square foot
Engineered Wood Siding
Do you like the look of solid wood siding but don't like the high cost of cedar siding or the low durability of pine? Consider using engineered wood siding!
Engineered wood siding offers a variety of features. Three that will impress any homeowner include:
Extremely durable
Easily milled
Easy to install
What differentiates this siding material from natural wood is the way it's manufactured. Engineered wood siding contains woodchips, sawdust, and bonding agents. It may also have castoff wood pieces.
The manufacturing process results in a robust and lightweight material. Engineered wood siding is also available in various lengths.
Since there are no knots or flaws for the installer to work with, engineered wood is usually easier to install. Although it will come finished from the factory, this type of siding will still need maintenance.
Engineered Wood Siding Options
If you choose engineered wood, you have several options. You can choose from a variety of styles and finishes.
Siding Styles
Lap siding and panel siding are two style options. You can install panel siding so that it goes in any direction. You must install lap siding horizontally.
If you go with lap boards, you'll notice they come in longer lengths than natural wood siding. You can order the panels in sizes up to 16 feet. This cuts down on seam lines.
Faux cedar shake siding comes cut in panels. This makes installation easier. Choose either straight or staggered edges to enhance the style of your home.
Finishes
Many homeowners choose to paint the siding themselves to save money. If you do that, make sure to buy pre-primed siding.
Most manufacturers also offer pre-finished/painted siding. This option is ready for installation.
Cost: $3.58 to $8.58 per square foot
Tongue and Groove Siding
Tongue and groove is a system of interlocking wood panels. One side has a tongue. The other has an opening called a groove.
The panels fit precisely together, which makes the installation process much more manageable.
Another feature of tongue and groove siding is hidden nails. You get a smoother appearance when you don't see the nails.
Pine is usually the wood used for this type of siding. If you want an unfinished look and aren't thrilled with the appearance of pine, some manufacturers offer tongue and groove made from other wood species.
Cost: $2 to $9 per square foot.
Wood Shake Siding
If you want to add texture and visual interest to the exterior of your home, consider wood shake siding. Also called shingle siding because it's shaped like roof shingles, shake siding comes in small wooden pieces.
Shake is installed one piece at a time, creating a staggered, overlapping effect. Cedar shakes come in several styles, including:
Straight edge
Wavy
Beveled edge
Other decorative shapes
You'll see wood shake siding more on Cape Cod and craftsman-style homes. However, that doesn't mean it won't look beautiful on a house with a traditional or modern style.
Cost: $6.50 to $13.50 per square foot.
Board and Batten Wood Siding
Do you love looking at barns and farmhouses? If so, you've likely admired the board and batten siding that has been popular for covering those types of structures. You may even hear it called barn siding.
Board and batten siding combines vertical boards, and smaller wood stripes called vertical batten.
Board and batten siding creates a layered effect. It's a popular look right now, but there's more to board and batten than aesthetics. This siding material provides a weathertight covering for a home's exterior and is wind-resistant.
Cost: $2 and $7 per square foot
What About Hardwood Siding?
Hardwood siding is another option to consider when you want a unique look and are not constrained by a tight budget. Hardwoods often referred to as exotic woods, considerations. In that case, exotic hardwood siding may be a good option.
Hardwoods used for siding include ipe, teak, and mahogany. Most hardwoods come from tropical areas in South America and Africa.
Features of exotic hardwoods include the following:
Sustainable, but it depends on the supplier
Resistant to rot
insect resistant
Repels moisture
Typically stained rather than painted
Hardwoods require a bit more maintenance than other siding options. You'll need to clean it annually and re-stain it every 2-3 years.
Cost: $4-$15 per square foot
Installation Costs for Wood Siding
The cost of labor to install wood siding is another variable you'll need to consider when planning your project.
Labor typically runs between $1.06 and $2.50 per square foot. Of course, your location is also a determining factor when pricing labor. If you live in a rural area, you'll likely pay less than a homeowner in a more densely populated area.
The type of wood you choose also impacts the cost of labor. The wood's thickness, quality, and style affect the price, mainly because some woods are more difficult to work with, making installation more tedious.
Installation and labor costs are in addition to the cost of materials. When you work with a siding contractor, your written estimate should show the cost breakdown.
Cost to Remove Old Siding
If you're lucky and have a home with a stucco exterior, you can side right over the stucco. Of course, you'll want a professional siding installer to do the job.
Suppose you want to replace aluminum or vinyl siding with wood. You'll need to include the cost of removing the old siding in your siding project budget.
Hiring a professional to remove the current siding will cost between $1,000 – $3,000. The cost should include the disposal of the old siding material.
If you have the manpower, tools, and equipment, you could remove the siding yourself. You would also need to arrange for disposal, which can be challenging in some areas. Not every waste disposal company will accept vinyl siding.
Pros and Cons of Wood Siding
Wood siding is one of the oldest options available, and homeowners love its natural beauty. Replacing the siding on your home is a significant investment, so it's essential to check out the pros and cons of wood siding before you make your final decision.
Pros 
Wood can be stained or painted in limitless colors and finishes.
Environmentally friendly
Wood siding is durable enough to last for decades if maintained properly.
Available in multiple wood species
Adds value to your home
Variety of styles
Safety is another feature of certain wood siding products. Many, but not all, wood siding has a Class A fire rating. When you buy siding with a Class A rating, you could save money on your homeowner's insurance.
Cons
Costly and time-consuming maintenance
Attracts termites
Higher price compared to other options
Requires annual cleaning to remove dirt and mildew buildup
One of the significant disadvantages of wood siding is that if a section of the wood suffers damage, such as cracking or rot, you must replace it immediately. Otherwise, water can seep into your home, causing more problems, including mold growth.
What Type of Wood Siding is Best?
When planning your siding project, you'll hear many opinions about which siding material is the best. What works for one homeowner may not be the best option for another.
Determining the best wood siding for your project means you'll need to consider several factors, including:
Home design
Climate
Durability
Maintenance
Budget
Location
Pine, fir, and spruce softwoods are the most common for home siding projects. Typically, these are the more economical wood siding products.
Redwood is an excellent choice if you're looking for durability under just about any weather condition. Redwood is also insect-resistant.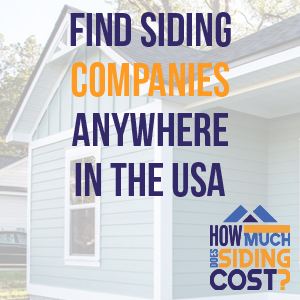 Location matters.
Wood siding is most prevalent in New England and the West North Central states, which include Minnesota, North and South Dakota, Iowa, Missouri, Nebraska, and Kansas. Availability is the biggest issue you'll likely run into if you choose redwood, as it can sometimes be hard to find if you don't live in the western part of the country.
Square Footage Matters
The size of your home is a significant factor when pricing a wood siding project. Like flooring and painting, the more square footage you need to cover, the higher the price of materials.
Here are some average costs to install wood siding based on square footage:
1000 square-foot house – $4,129-$6,722
2000 square-foot house – $6,989-$10,322
2500 square-foot house – $7,300-$10,659
In addition to square footage, your home's layout impacts your siding project's cost.
DIY vs. Professional Installation
If you're itching to use (or improve) your DIY skills, you could save some money by installing the siding yourself. But let's look closer at what a DIY siding installation might entail.
Do you have experience replacing siding? Installing wood siding may seem simple, but when you need to fit the boards around doors and windows then things become a bit more complex.
Siding installation isn't a one-man job. You'll need at least one other person to help.
You've heard that time is money and money is time. Maybe a little overused, but it's true. A DIY siding installation project could cost you more time and money than hiring a professional installer.
In addition to expertise, professionals offer the following advantages:
License and insurance
All tools and materials
Typically include prep and cleanup
Knowledge of codes and permits
Warranties and guarantees
You might also save some money on siding materials simply because you hire a contractor. Some siding companies pass on their wholesale discount to clients.
Wood Siding vs. Vinyl Siding?
Another option for siding is vinyl. Around 27% of new homes have vinyl siding installed.
To help determine the better choice, start by comparing two critical features of both wood and vinyl siding: durability and recyclability.
Durability
While vinyl siding is relatively durable, it still needs regular maintenance. Is it as needy as wood siding? No, because if you decide to use vinyl, you won't need to repaint it every 3-5 years like you would if you choose wood.
Both siding materials can crack or warp, but for different reasons. If wood siding cracks within a few years, the culprit may be poor installation. Vinyl siding cracks, dents, and warps primarily because of climate.
One unique issue with vinyl siding is vinyl oxidation. Removing the chalky residue left behind by oxidation may require a professional cleaning service.
Recyclability
Both materials are recyclable.
You might assume since vinyl is plastic, it's not environmentally friendly. That's not true. Because it's a thermoplastic, vinyl siding can be reground to form something new.
That doesn't mean vinyl won't show up in landfills. Unless you can find a company specializing in vinyl recycling, that's where old vinyl lands at the end of its lifecycle.
You can recycle wood, and even better, if you use sustainably sourced wood, you'll create less of an impact on the environment.
Comparing the Appearance of Wood and Vinyl
Perhaps the most significant advantage of choosing wood over vinyl siding is its appearance.
If you live in an older home, the original siding was likely wood shingles, wood clapboard, or both. Wood siding completes the character of older homes.
While manufacturers do a reasonably good job of making vinyl siding look like it has a wood-grain texture, it's still apparent that it's plastic. The vinyl planks' overlapping seams and rounded edges give the secret away.
With wood, you have multiple options for installation, and since you can stain or paint wood siding in nearly any color, you have more opportunities for customization.
Inspiring Wood Siding Ideas
For homeowners looking to stand out in the neighborhood, wood siding can add an unexpected and unique appearance that will make passersby say, "Wow!"
One popular way to make your siding project stand out is to use charred wood siding. This trend started in China, but it's here in the U.S. now and gaining ground.
This siding has an unmistakable scorched charcoal color. Cedar is the preferred wood, but you can apply the method used to char wood to other types of wood.
Charred wood siding gives a home a dark, modern look.
Wood siding is such a versatile material. Whether you're looking for a rustic, traditional, or ultra-modern aesthetic, wood offers a range of profiles.
You can stain or paint wood siding in a variety of shades. No matter what, you can create a genuinely custom look for your home's exterior.
Ready to Get a Quote for Your Siding Project?
Regardless of the type of siding material you choose, the cost is a leading factor in your final decision. After reading this article, you should have a starting point for determining whether wood siding is your best option.
If you're ready to move on to the next phase of your siding project, it's time to work on getting quotes.
The team at How Much Does Siding Cost? can help by supplying quotes for siding installation. We have the resources to help you cost your project for wood, vinyl, fiber cement, stone veneer, or metal siding.
Reach out today to get a quote.