How Much Does CertainTeed Siding Cost?
The average cost to install CertainTeed Siding is estimated to be between $2.10-$9.04 per square foot, with lower pricing for DIY projects.
PRICING FACTORS: Location, Square footage to be sided, contractor labor rates, DIY vs Professional Installation
Estimated Cost to Install CertainTeed Siding by House Size:
1500 Sq. Ft House: $3,150-$13,560
1700 Sq. Ft House: $3,570-$15,368
2000 Sq. Ft House: $4,200-$15,940
2500 Sq. Ft House: $2,250-$17,340
3000 Sq. Ft House: $8,700-$18,331
Pricing above are estimates. For a quote on your project we highly recommend consultation from a certified siding professional near you.
Is CertainTeed Siding Good? Our Review
When it comes to installing siding on your home's exterior, it's interesting to note that vinyl siding is not only one of the most cost-effective options but also one of the most low-maintenance options available.
If you're in the market for new siding, you may be looking into CertainTeed, which is an industry leader in vinyl and polymer siding. However, you make also be wondering how much CertainTeed siding costs.
Popular Siding Products by CertainTeed:
NORTHWOODS® SHAKES AND SHINGLES
CEDARBOARDS™ INSULATED SIDING
MONOGRAM® VINYL SIDING
RESTORATION CLASSIC™
The good news is that there are a variety of options available, so you can find the perfect fit for your home and budget. From various textures and colors to straight-edge perfection shingles, this brand offers it all to eager yet budget-conscious homeowners looking for a change.
CertainTeed is absolutely one of the best brands of siding a homeowner came by. We highly recommend that this brand is one that you consider in your journey to siding your house.
In this comprehensive guide, we'll take a closer look at the cost of different types of CertainTeed siding and provide some tips on how to get the best deal. Keep reading to learn more about this unique siding option and the prices involved with purchasing and installing it.
What Is CertainTeed Siding?
CertainTeed siding is a type of exterior siding that is made from a composite material. CertainTeed siding is available in a variety of colors and styles, and it can be used on both new construction projects and existing homes.
The popularity of this type of siding material is because it's typically less expensive than other types of siding, and it is also low maintenance. CertainTeed siding is made from a composite material that is usually either polyvinyl chloride or recycled vinyl.
While the brand's siding material is one of its most popular offerings, they do also offering other options aside from vinyl siding. You can choose from sawmill shingles and reinforced siding to staggered perfection siding that creates a unique look your neighbors will be jealous of.
The brand offers several options that are worth checking out. Here are a few of their most popular collections to help give you a basic idea of what to expect, though.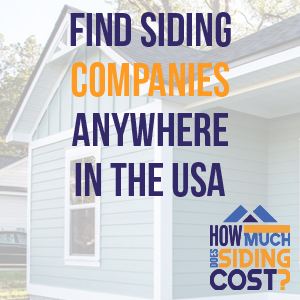 Restoration Classic Vinyl Siding
As the name suggests, this option provides you with a super classic look and feel. It's a great choice for homeowners looking for a durable, low-maintenance siding option. The siding is made of high-quality vinyl that resists fading, chipping, and cracking.
Additionally, the siding is easy to clean and maintain, and it comes in a variety of colors and styles to suit any home. More specifically, it comes in five aesthetic profiles. Three of those offer select cedar looks and two offer a smoother look. In terms of colors, you have your fair share of choices, too, with 30 unique and eye-catching colors to choose from.
Restoration Classic vinyl siding is a great way to update the look of your home without breaking the bank. It's one of the cheapest siding options from CertainTeed.
Main Street Vinyl Siding
Main Street vinyl siding from CertainTeed is similar to their Restoration Classic collection. The main difference is the size of the siding as it's slightly thicker than that of the Restoration Classic options. You also have more choices with this selection as you're able to choose from seven different options.
Choose from dutchboards or clapboards with sizes ranging from a triple 3″ brushed clapboard up to a single 8″ wood grain clapboard. With 24 color options, you can mix and match styles and colors to truly create the look of your dreams. The best part, though, is that this collection is still somewhat affordable for those on a more scaled-back budget.
Wolverine American Legend Vinyl Siding
Interested in a wood grain texture and thinner panels? Opt for the Wolverine American Legend vinyl siding. Pair it with the brand's decorative trim to create a real hometown yet classic American look. Plus, with three style options and 21 color choices, you're sure to find the perfect look to compliment the rest of your home's design and style.
Cedar Impressions Polymer Shake & Single Siding
Looking for siding from CertainTeed that's not vinyl siding? Their Cedar Impressions collection is by far one of their most popular (and expensive) siding options. From straight-edge impression shingles to individual sawmill shingles, you've got your fair share of options here.
While this style creates a more dynamic look that's sure to increase your curb appeal and the value of your home, installation for this type of siding is more expensive. Keep this in mind when considering your renovation budget as single siding can be nearly double the cost when it's time to install it.
Pros and Cons of CertainTeed Siding
While no siding is perfect, there's a reason why CertainTeed has garnered so much praise and attention in the home renovation world. Installing vinyl siding in general can help you increase your home's value by over $12,000.
While comparing the cost of this type of siding is important, let's walk you through the pros and cons of their products first.
Benefits of CertainTeed Siding
CertainTeed siding is a popular choice for homeowners because it is low maintenance and durable. CertainTeed siding is also available in a variety of colors and styles, making it easy to find an option that fits your home's aesthetic.
In addition, CertainTeed siding is energy efficient and can help to reduce your heating and cooling costs. Overall, one of the benefits of choosing to work with this brand is its commitment to sustainability. They even offer a take-back program for job site vinyl scraps.
With all of that in mind, what is perhaps most attractive to homeowners is the lifetime limited warranty. Other consumers have noted that CertainTeed truly does mean a lifetime, as their website even notes that the warranty is transferable to new homeowners.
Other benefits of CertainTeed siding include the following:
A class 1 (A) fire rating (the best possible rating you can receive)
Proprietary PermaCOLOR™ systems and technologies that provide fade-resistant color performance
TrueTexture™ technology that adds a realistic look and feel to all siding materials
DuraLock designs that make it easy for you to snap each vinyl piece into place (if you decide to DIY the project)
You can add those perks to the fact that CertainTeed also offers contractor training programs. Contractors who participate in their program can earn credentials and gain access to special software that can make the installation process even easier and more precise. While this is great for contractors, it's ultimately a way to help ensure you're finding the right contractor for the job.
Overall, there's a lot to love about CertainTeed siding. However, it's not without flaws.
Drawbacks of CertainTeed Siding
While CertainTeed siding is an effective way to protect your home from the elements, there are some drawbacks to consider before installation.
One is that it can fade over time, especially in direct sunlight. While the brand's PermaCOLOR™ system helps provide fade-resistant colors, some homeowners have noted that their brighter colors weren't as vibrant as they'd hoped they would be over time.
Another is that it is not as durable as real wood and can be damaged by hail or high winds. Again, when it comes to vinyl siding options, CertainTeed performs well. However, if you're choosing between vinyl and other materials, real wood is slightly more durable.
Additionally, CertainTeed siding can be difficult to repair if it becomes damaged. The brand's limited warranty is a fantastic offer. However, if you live in an area with extreme weather conditions, you might find that you'll need help with damage repair sooner than with real wood. This is also the case when it comes to moisture as CertainTeed tends to retain moisture.
Overall, when comparing the pros and cons of CertainTeed siding, it's helpful to weigh the pros and cons of vinyl siding for a house in general. Sure, vinyl siding is popular because it is relatively low maintenance and comes in several colors and aesthetic options.
However, one major downside is that it can crack or chip if hit by a hard object, such as a baseball. Additionally, vinyl siding can fade over time, especially if it is exposed to direct sunlight. This isn't the case with other materials.
How Long Does CertainTeed Siding Last?
Generally speaking, vinyl siding will last for decades. However, CertainTeed siding is designed to last even longer, with a limited lifetime warranty that covers defects in materials and workmanship.
It's worth noting, though, that the warranty is prorated after a few years. For example, if your siding was installed five or fewer years ago, the warranty covers 100% of the repairs. If it's been between ten and eleven years then they'll only cover 50% of the maintenance fees.
Typically, this shouldn't be an issue, though. With proper care and regular cleaning and maintenance, CertainTeed siding should last anywhere between 20 to 50 years.
In other words, if you choose CertainTeed siding for your home, you can be confident that it will stand the test of time.
Is CertainTeed Siding Worth it?
While we'd love to give you a firm answer, it ultimately comes down to your home's style, your budget, and your siding needs.
CertainTeed is one of the leading manufacturers of vinyl siding, and its products are known for being high quality and durable. But is CertainTeed siding worth the cost?
CertainTeed siding is made from a high-quality vinyl material that is designed to resist fading, cracking, and peeling. The company also offers a wide variety of colors and styles to choose from, so you can find the perfect look for your home.
In addition, CertainTeed siding comes with a lifetime warranty, so you can be confident that your investment will last. While the warranty doesn't cover everything and is prorated after the first five years, this additional guarantee shows the company's commitment to excellence.
In general, CertainTeed siding is a good investment if you're looking for a long-lasting, low-maintenance siding option. However, if you're on a budget, other vinyl siding brands may be a better fit.
CertainTeed Siding Prices
Now that you're aware of the pros and cons of CertainTeed siding, it's time to start factoring cost into your decision-making process.
While the cost of CertainTeed siding depends on the product you choose, most options range anywhere from $4.50 to $9.00 per square foot with installation. Without installation, you can lower that price range to about $2.00 to $4.00 per square foot. While that might sound expensive, it's actually on par with the average cost of vinyl siding and vinyl siding installation costs.
You'll find that the brands insulated and polymer cedar shakes are the most expensive option. However, other options such as the brand's Restoration Classic vinyl siding line is more cost-effective. In general, CertainTeed vinyl siding is much cheaper than the cost of other siding installations such as wood siding, stucco, and steel.
When it comes down to it, for basic siding from CertainTeed, the average cost is about $3.95 per square foot. If you opt for a mid-range siding product, you can expect to pay, on average, about $5.45 per square foot. High-end options range between $7.88 to about $9.00 per square foot.
DIY Cost to Install CertainTeed Siding vs. Hiring a Pro
One of the benefits of CertainTeed siding is the fact that it's easy to install. The brand's DuraLock design ensures a simple fit for each piece of siding you lock together. However, that doesn't mean that installing siding yourself is easy.
The cost of getting a pro to help you install CertainTeed siding varies depending on where you're located, the experience of the professional, and the type of siding you've chosen. However, there are average costs you can budget for:
Basic Installation: Between $2,500 to about $4,000
Intermediate Installation: Between $3,600 to about $4,200
Complex Installation: Between $4,500 to about $8,000
As you can see, when you buy CertainTeed siding, a large part of the cost is the installation. By installing CertainTeed siding yourself, you can save a few thousand dollars.
With that in mind, it's worth considering whether you have the time or know-how to install the siding yourself correctly. If you don't install it correctly, you could end up spending thousands of dollars (or more) in repairs, maintenance costs, or even new siding.
How Much Is Labor Cost to Install CertainTeed Siding?
The labor cost to install CertainTeed siding can vary depending on the size of your home and the complexity of the project. In general, however, you can expect to pay between $3.00 and $10.00 per square foot for labor.
This does not include the cost of materials, which will vary depending on the type of siding you choose. CertainTeed offers a wide range of siding options, from traditional wood to more modern choices like vinyl and fiber cement.
With so many options available, it's important to consult with a professional to determine which type of siding is best for your home. Once you've selected the perfect siding for your needs, the labor cost to install it will be well worth the investment.
How Much Does it Cost to Install CertainTeed Siding on a 1,500 Sq Ft. House?
Let's take a quick step back. If you reference the initial estimates of the cost of installing CertainTeed siding then you'll remember that installed, the cost averages anywhere between $4.50 to $9.00 per square foot. This means that if you're comparing CertainTeed siding costs then you can use that range to estimate the cost to install siding on a 1,500-square-foot home.
In this case, the total cost would be between $6,750 and $13,500. Keep in mind that to calculate the total square footage, we're talking about the outside of the home. If you're not sure how to calculate your home's exterior square footage then it's worth looking into that to ensure you have the right measurement for your quote.
How Much Does it Cost to Install CertainTeed Siding on a 2,000 Sq Ft. House?
Now, what about the cost to install CertainTeed siding on a 2,000-square-foot home? Keep in mind that a 2,000-square-foot home is about the size of your typical ranch or Cape-style home. It's slightly smaller than the average American house but large enough to be a two-bedroom or even three-bedroom house.
This means that you can expect to pay slightly more to install CertainTeed siding than you would for a 1,500-square-foot home. In this case, the average cost for a home of this size would be between about $9,000 to $18,000. Again, we're using averages here so the best way to get a more accurate estimate is to request a quote.
How Much Does it Cost to Install CertainTeed Siding on a 2,500 Sq Ft. House?
The average American family's home these days is just under 2,500 square feet. This means that this estimate is probably going to be the most accurate or relevant to the majority of homeowners. While the cost isn't as high as it might be compared to installing other siding materials, the average cost for a home of this size is between about $11,250 to $22,500.
How Much Does it Cost to Install CertainTeed Siding on a 3,000 Sq Ft. House?
Finally, we have the 3,000-square-foot home. What are CertainTeed siding installation costs for a home of this size? The total costs can easily reach well over $25,000 depending on the type of siding you've purchased. At this price range, you have to consider the overall payoff.
Are you installing CertainTeed siding because you are renovating your dream home that will stay in your family for decades? If so, you can probably justify the price.
However, if you're installing CertainTeed siding simply because you think it'll help increase your home's value then it might be time to take a step back. Remember that, on average, installing vinyl siding does increase the resale value of your home. However, it only increases it by about $12,000, making this project and investment slightly more than it's worth.
We're not suggesting you don't move forward with siding installation. We're simply helping you remain mindful of the total costs involved. Overall, CertainTeed siding can be a fantastic investment. When you're looking at costs this high, though, it's worth taking your time to gather and compare quotes from several providers.
Where Can I Buy CertainTeed Siding?
You can buy CertainTeed siding from several different retailers, both online and in brick-and-mortar stores. Home Depot, Lowe's, and Menards are all national chains that sell CertainTeed products, including siding.
Many local hardware stores and lumberyards also carry CertainTeed siding, so it's worth checking with your local businesses to see if they have what you're looking for.
You can also buy CertainTeed siding directly from the manufacturer's website. They offer a wide variety of siding products, so you're sure to find something that's a perfect fit for your home.
Likewise, when you purchase siding directly through a provider like CertainTeed, you're guaranteed to enjoy superior customer service and product processing as it doesn't go through a third-party provider. If you can, it's always worth purchasing directly from the manufacturer. In some cases, they might even be able to recommend professional and highly-qualified installers to help.
Whatever route you choose, buying siding from CertainTeed is a great way to improve the look of your home. Simply take the time to calculate the total cost of buying and installing the siding before making your decision.
Learn About the Other Costs of Siding
If you're considering new siding for your home, you're probably wondering how much it's going to cost.
The cost of CertainTeed siding can vary widely depending on the material you choose and the size of your home, but our goal at How Much Does Siding Cost is to help you get a better idea of what to expect.
We offer a comprehensive review of popular siding options, as well as the ability to get custom siding installation quotes from several providers. We hope that by providing you with this information, you'll be able to make an informed decision about the best option for your home.
Feel free to browse through our other pricing breakdowns. Or, click here to compare quotes now.
CertainTeed Corporate Information
CEO: Mark Rayfield 
Founder: George M. Brown
Year Founded: 1904
Parent organization: Saint-Gobain
Subsidiaries: Vytec Vinyl Siding, Vi-Lux Building Products Inc.,
Location: 20 Moores Rd, Malvern, PA 19355