How Much Does Metal Siding Cost?
The average cost to install metal siding is estimated to be between $2.86–$8.11 per square foot. The biggest contributing factors will be square footage to side and labor costs.
PRICING FACTORS: Location, Square footage to be sided, contractor labor rates, DIY vs Professional Installation
Estimated Cost to Install Metal Siding by House Size:
1500 Sq. Ft House: $4,290-$12,165
1700 Sq. Ft House: $4,862-$13,787
2000 Sq. Ft House: $5,720-$16,220
2500 Sq. Ft House: $7,150-$20,275
3000 Sq. Ft House: $8,580-$24,330
Pricing above are estimates. For a quote on your project we highly recommend consultation from a certified siding professional near you.
Metal Siding Buying Guide
To tackle the obvious question, how much does siding cost, we need to review a number of items. With annual home improvement spending at over $4,000 for most Americans, you might be wary of investing in a new project. But if you're due to upgrade the siding on your home, you can't afford to delay the process. To get the most value out of your investment, give metal siding strong consideration.
You'll appreciate its durability and modern style and the benefits don't end there.
Cost to Install Metal Siding on a 1,000-Square-Foot House
Metal siding installation can set you up with a durable solution that protects your home. If you're wondering about the cost, however, there are some factors that can impact your bottom line:
Scope of the installation
Metal thickness
How big is your home? The square footage will help determine how much you pay for materials and labor. For a modest 1,000-square-foot house, you can expect a cost that's on the lower end of the spectrum.
But the scope of installation isn't the only factor that impacts price. The type of metal you choose, as well as its thickness, can sway the price of materials. Metal thickness refers to the gauge of the siding, and you can expect to pay more for a thicker gauge.
A 24-gauge panel, for instance, will be heavier and thicker than a 26-gauge panel of metal siding. This makes a 24-gauge panel the more attractive option since it should be more durable. It's worth paying more, if possible, for this added durability.
As a result, a 24-gauge panel could cost as much as 30% or more than a 26-gauge panel. Anything lighter, like a 29-gauge panel, won't offer the supreme durability you want in a siding material. While you can pay under $2 per square foot for tin, another type of metal, the money savings won't translate to a sturdy wall of siding.
Ultimately, siding installation for a 1,000-square-foot house, you could pay anywhere from $3,000 to $8,000 for the installation of metal siding, depending on the type. On the upper end of the spectrum, for a heavier and higher-quality metal, you may pay as much as $30,000.
Cost to Install Metal Siding on a 2,000-Square-Foot House
For larger homes, you might expect that the cost of installing metal siding will be significantly higher. That's not always the case. Because the installation team won't need to tie up several workers on a smaller job, it can be to your benefit to have a bigger home.
It might surprise you to learn that having a much smaller house can cause the price to move higher. That's because the installation crew will need to pay more to cover the delivery of the siding. Plus they'll still need a crew to unload and install everything.
How easy is it to access your home for the installation crew? The answer to that question could nudge the price higher, and you may need to budget for more money.
A home may be surrounded by dense vegetation, for example. Or perhaps it is very close to neighboring homes. These scenarios present extra burdens for the installation crew.
The additional effort required to reach tight spaces can ratchet up the price of installation. Additionally, homes that are multiple stories high or have lots of steep inclines can cost more for metal siding installation. So, to put metal siding on a 2000 square foot house, you may end up paying over $10,000 for the job.
Cost to Install Metal Siding on a 2,500-Square-Foot House
Is your home sitting at 2,500 square feet or higher? You may think you need to budget for a higher cost of metal siding when the square footage goes up. But that may not be true.
As long as the exterior of your home is easily accessible, you may not pay much more from an installation standpoint. Yes, you'll need more materials, which could increase the cost.
But the contracting team actually can save money by purchasing more materials from their supplier. Then they can pass those savings along to you.
When determining the cost of metal siding, don't overlook the fact that the old siding will need to be removed first. This process may cost more on a larger home simply because there is more siding to remove. You may need to spend around $1 or more per square foot to cover the siding removal.
For a 2,500-square-foot home, you can spend anywhere from $10,000 to $50,000 for materials alone. Aluminum and tin will put your total price on the lower end of the spectrum. Zinc and copper will push your price to the higher end, while steel provides a more comfortable midrange choice.
Advantages of Metal Siding
Metal siding holds several advantages over wood, vinyl, and other options. Just like other traditional siding options, you can paint metal siding and give your home a handsome upgrade.
But metal siding holds some unique characteristics that might be enough to persuade you to choose it. What are the advantages of metal siding? These are the biggest ones:
Durability
Weather-resistance
Inspect-proof
Better energy consumption
One of the biggest advantages of steel siding is its durability. The metal siding lifespan is much longer than that of wood or vinyl siding. And steel siding is much more resistant to bad weather, such as strong summer storms that produce hail damage or strong winds.
Steel siding can stand up to hail and avoid becoming dented as a result. That means you won't need to mess with replacing entire areas or sides of your house that sustained damage.
Fiber cement siding or vinyl siding, by contrast, will bear the scars of a hail storm. These types of siding can warp or discolor under intense temperatures, as well. Quality metal siding can work well in just about any climate or weather condition.
In the same vein, steel siding can stand up to water. While wood siding can warp from moisture penetration, you won't need to worry about that with metal. Your siding won't show signs of buckling or other cosmetic problems.
In addition, metal siding won't be a temptation for insects. Wood siding, on the other hand, is a magnet for termites and other pests. If you take care of your metal siding, you could expect it to last for longer than 50 years.
And if you're looking for a siding choice that can save you money on utilities, look no further than metal siding. Metal siding won't absorb heat from the sun. As a result, you won't need to crank up your air conditioning as much during the summer months.
Disadvantages of Metal Siding
When it comes to disadvantages, there are a few to be aware of with metal siding. You'll want to consider some of these as you determine the right exterior choice for your home:
Cost of installation
Replacement concerns
Potential for dents and rust
With metal siding, you should budget for a higher upfront cost than what you'd need for vinyl or wood. You can find cheaper metal siding options, such as aluminum or tin, but you won't get the same level of durability that you want from a good metal brand.
While vinyl siding can cost as little as $2 per square foot for materials, metal siding can climb to over $15 per square foot. And that doesn't include the cost of labor.
In addition, metal siding is not as easy to replace as some other types of siding. If a tree damages one portion of a wall, for instance, you might be stuck with it unless you're willing to redo that entire wall.
Dents from trees, baseballs, or other hard objects can cause visible imperfections that are impossible to erase. Metal siding panels that are not of a sturdier gauge are more prone to these issues, too. If you go with tin siding, expect dents to occur easily.
Steel siding offers a bit more dent resistance than tin, but it does remain prone to rust. If you want to avoid rust, you can find aluminum siding in some rust-proof selections. If your metal siding sustains damage, your best bet is to replace or repaint it immediately to avoid problems with rust development.
Understanding Corrugated Metal Siding
Corrugated siding differs from standard metal siding in its appearance and construction. It has a wavier look thanks to its deeper grooves.
If you're looking for ways to save money, look no further than corrugated metal. With it, you'll pay less than you would for other types of metal. Because the fasteners are visible with corrugated panel installation, you may pay as little as $3 per square foot for installation.
On the opposite end of the spectrum, concealed fastener panels will cost up to 50% more to install than corrugated panels. For a more economical choice, go with corrugated panels. On the high end, you can expect to pay around $12 per square foot for installation.
If you're adamant that you want to do the installation yourself, corrugated metal siding provides one of the easier routes. Plus you won't need to worry about dents, warping, and other issues associated with different types of metal siding.
For those seeking low-maintenance siding, corrugated steel won't require much effort! You'll just need to grab your hose and remove dust and dirt every so often. Otherwise, you won't need to deal with refinishing it or hiring someone else to do a cleaning.
Cost of Board and Batten Metal Siding Cost
The cost of metal siding goes up if you switch to board and batten metal siding. This trendy style of metal siding offers warmth and a more rustic feel synonymous with farmhouses. It's a great way to enhance the curb appeal of your home!
When you see a home with board and batten metal siding, you might think it looks more like a barn. That's because this style emerged as a common solution to insulate barns and farmhouses hundreds of years ago.
With this style, thin battens, or strips, seal the meeting point between planks of metal. The combination of the wide metal planks and seams was a functional option 100 years ago. Today, the battens offer a decorative flourish that homeowners love.
You don't have to use traditional wooden planks to achieve the classic look of board and batten metal siding. Choosing metal board and batten siding offers several useful upgrades. With metal planks, you won't need to worry about:
Ongoing maintenance
Insect infestations
Warped or rotted wood
Mildew
Instead, you'll get a low-maintenance siding solution that looks good. As with other types of siding, however, your final cost will hinge on a few details.
A 24-gauge metal with a fancier paint finish will cost more than that same type of metal with a standard finish. For instance, if you have your heart set on an aged copper finish or muted matte finish, you'll pay more. On the other hand, if you go with a standard blue or gray paint finish, you'll pay less.
Generally, you can expect to pay anywhere from $3 to $7 per square foot for metal siding in a board and batten style. For a 2,000-square-foot house, that would put your price tag at around $14,000.
How Long Does Metal Siding Will Last
One of the key benefits of metal siding is its strength and durability. Unlike traditional siding choices, such as wood and vinyl, you won't need to refinish or replace metal siding.
Some types of wood siding may only last 15 years. And you'll need to refinish wood siding every 5 years. Not only is this time-consuming, but it also gets expensive to commit to maintenance tasks and replacement costs.
Vinyl siding can last around 50 years, but it may fade or crack over time. And you'll see dents after a hail storm. Steel siding won't become brittle with age, by contrast.
Metal siding can meet or exceed 50 years in its lifespan. Quality installation teams offer limited lifetime warranties. That's because they are so confident in the ruggedness of metal siding.
When it comes to choosing the metal siding with the most longevity, copper and zinc tend to be the best. You'll get the highest level of durability. In fact, the siding choices could last well beyond your lifetime!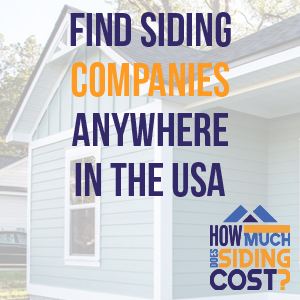 Best Type of Metal Siding
When it comes to determining the cost of metal siding, the material makes a difference. There are a few common types of metal siding options:
Steel and copper tend to be the most popular options. Of the two metals, steel clocks in at a lower price. You can anticipate paying as little as $7 per square foot for steel siding materials installed.
If you have the money to pay for a pricier option that brings more durability to the table, get copper siding. Similarly, zinc is another quality option that can last over a century. Just be ready to spend around 5 times as much money on either of these options versus aluminum and steel.
To choose the metal siding with the most longevity, copper and zinc tend to be the best. You'll get the highest level of durability. In fact, the siding choices could last well beyond your lifetime.
If you're into being more environmentally conscious, you can find steel siding made from recycled materials, too. This provides an easy way to create a greener living space and a more sustainable lifestyle!
Best of all, you can choose metal siding in just about any finish you want. Choose a striking blue or red paint finish to make a statement. Or pair white metal siding with black window frames and accents for a fresh and modern look.
DIY vs Hiring a Professional to Install Metal Siding
Yes, it might sound tempting to shave money off your total cost by tackling the metal siding installation yourself. After all, if you have free weekends or evenings, you could turn it into a side project. But you're better off outsourcing this job to a professional team for these reasons:
You'll get a more professional appearance
You won't need to buy equipment
You'll avoid injuries
If you try to do the job yourself, you'll need to coordinate the delivery of metal siding plus other extras, like trim. You'll need base, jamb, and head trim. Plus you'll want trim for all corners.
You'll also need basic equipment, like power saws, shears, and metal snips. In addition, you'll want safety goggles and gloves to protect yourself from flying debris.
What type of metal siding do you have? If you're working with a concealed fastener panel, which won't display screws or clips, you'll have a trickier installation job. That's because it's harder to achieve a seamless, smooth appearance when you line up these types of panels.
Do you have experience climbing ladders or doing construction work? If you don't, you should steer clear of making a siding installation job your first attempt. You might just find yourself wearing a cast after the experience.
Professional installation teams have the safety equipment and experience to do the job safely. A reputable installation crew also will have insurance and liability coverage. This means that you won't need to pay for medical care if a worker is injured on the job on your property.
Further, a professional team should offer a warranty on installation to cover fixes. This will come in handy if you encounter any problems with the materials.
For example, within 6 months, maybe a plank will slide out of place or rust prematurely. With a warranty, you won't need to take care of the repair and you may not need to pay for it.
Calculate The Cost of Metal Siding Cost
When you're trying to determine the cost to install metal siding, you'll need to factor in the cost of the materials as well as labor. The cost to install metal siding will vary depending on several factors. These include:
The state of the metal market
Strength of materials
Type of job
Ultimately, no two installation jobs will be the same. The type of metal you choose has a significant impact on your cost of materials. And the supply and demand situation within the steel market won't always be the same, either.
For instance, in a high-demand market, steel mills may be able to increase their prices significantly. Inflated prices can impact the purchase price for installation teams.
As a consumer, this means that your metal siding cost could go up. It's advisable to take stock of the steel market or ask your contractor before agreeing to an installation job. You may also want to choose an off time of year to have the siding installed as another cost-saving measure.
The type of metal you choose will impact your bottom line, as well. Aluminum and tin represent some of the cheaper choices among metal siding options. But these siding choices might only last 20 years, depending on how well you take care of the materials.
Opting for stronger-gauge steel siding, zinc, or copper will give you more durability. But you'll need to pay up to $35 per square foot to install the copper siding.
Look at your budget and determine how long you intend to stay in your home. If you have the financial resources to reach for better-quality metal siding options, it can be worth it! You'll enhance your home's value and give your home a durable and attractive level of protection from the elements.
Know the Benefits of Metal Siding
Consider the metal siding cost a worthwhile investment when you're seeking new siding. You'll gain a durable, long-lasting siding solution that will refresh the look of your home. Look to aluminum and steel as budget-conscious metal options, and trust the professionals with installation for the best results.
When you want more info on the metal siding to make an informed decision, check with us to compare quotes!